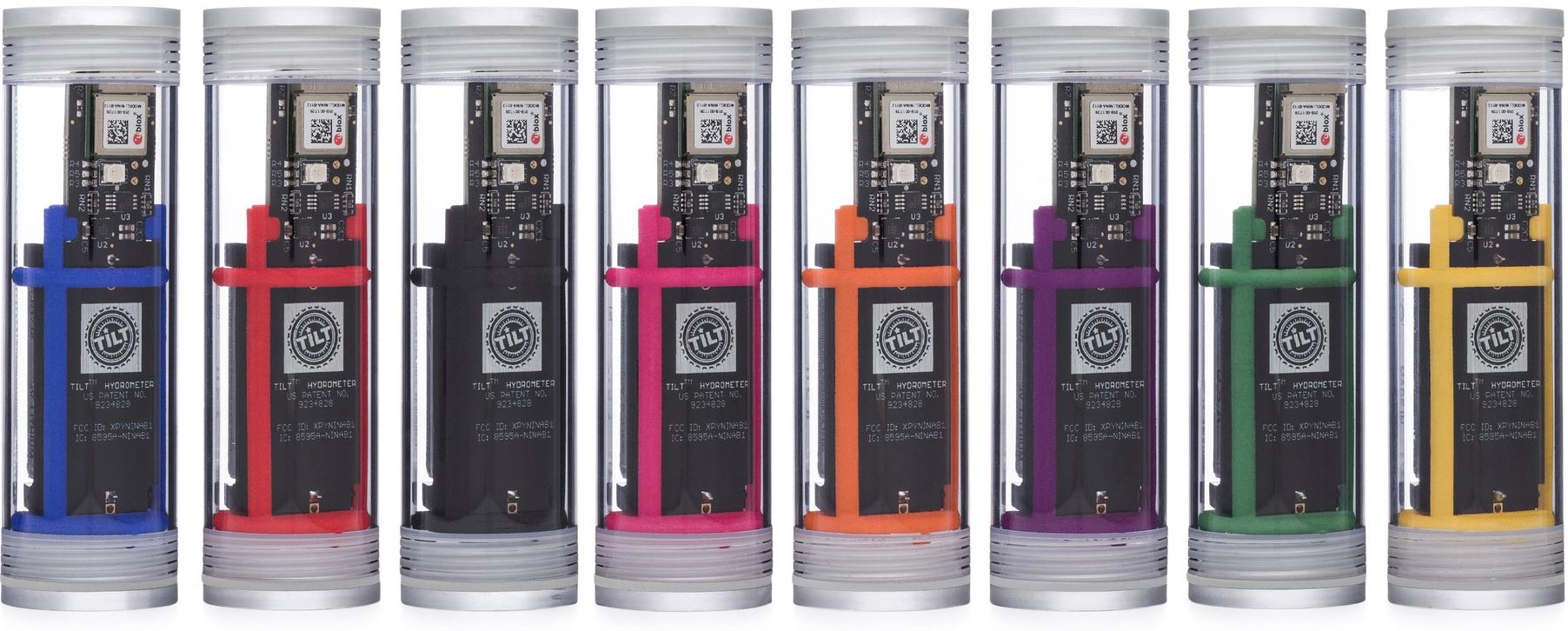 Craft Metrics has developed an industrial-strength system for receiving data from a fleet of Tilt Hydrometers and making it available to brewers through the Craft Metrics dashboard.
Challenge 1: Stainless fermenters inhibit wireless signals
The Tilt Hydrometer emits a bluetooth wireless signal designed to go through plastic or glass carboys and be picked up by a smartphone up to 25 feet away. Stainless steel fermenters used in professional breweries inhibit the signal and drastically reduce the signal strength. In some cases during our testing, our smartphones couldn't pick up the signal at all, even when holding them right up to the fermenter.
Craft Metrics provides industrial-strength bluetooth receivers that are up to 40 times more sensitive than a typical smartphone, tablet, or Raspberry Pi computer. They can be mounted to the top of a fermenter, or to the ceiling in the brewery. Multiple receivers can be installed, and they will work together to provide robust coverage over a wide area.
Challenge 2: Multiple brewers need access to the data
The Tilt Hydrometer is designed to send signals directly to a smartphone as long as the phone is within a 25 foot range. While that works great for a lone homebrewery, it's not ideal in a professional setting where multiple brewers are working together and all need access to complete fermentation curve. There is the option of dedicating a phone or tablet that stays with each fermenter, but that's expensive and cumbersome.
Craft Metrics sends the data to a central location that all brewers can access, even remotely. So even during the night when nobody is at the brewery, data is collected to ensure smooth, continuous gravity and temperature plots. Alerts can even be configured to send an email or SMS when the target gravity is achieved.
Challenge 3: Breweries have more than 8 fermenters
Tilt Hydrometers come in 8 colors, which is a simple and effective way to identify them when using multiple with the official app. However, since you cannot use two of the same color without corrupting the data, you are effectively limited to using only 8 at a time.
Craft Metrics can identify multiple Tilts of the same color and keep their data separate, so you can have as many Tilts in use as you need.
There is still the issue of identifying them in person. By request, we can include a small label on the inside of your Tilts with an additional identification number. This number will also show up in your Craft Metrics dashboard when you view your data.
Challenge 4: Advanced data processing and smoothing
During vigorous fermentation, the gravity data can become somewhat noisy and erratic due to the effect of turbulence on the Tilt Hydrometer. This gives a useful indication of turbulence, but can be distracting for a brewer wishing to simply observe the gravity trend. Because the Tilt Hydrometer takes gravity readings approximately every 10 seconds, we can process the data using a moving average to get very accurate gravity curves.
Craft Metrics shows both in a concise visual representation, so you can see the data as reported by the Tilt, along with averages that take the place of the hand-drawn "dot and line" plots on fermenter clipboards.