The Craft Metrics Cloud Service collects data from all of your Craft Metrics sensors, allowing you to check in from a computer or smart phone to view current status and historical trends. It can send push alerts to your phone or email if alarm conditions are triggered.
Benefits
Confirm that everything is running smoothly with our real-time data display.
Get a mobile alert if your equipment malfunctions or you lose power.
Optimize your processes to avoid downtime and product loss.
Get to the bottom of mysterious intermittent equipment problems.
High-resolution gravity data leads to better record-keeping, faster turn-around time for your fermenters, and interesting new fermentation possibilities.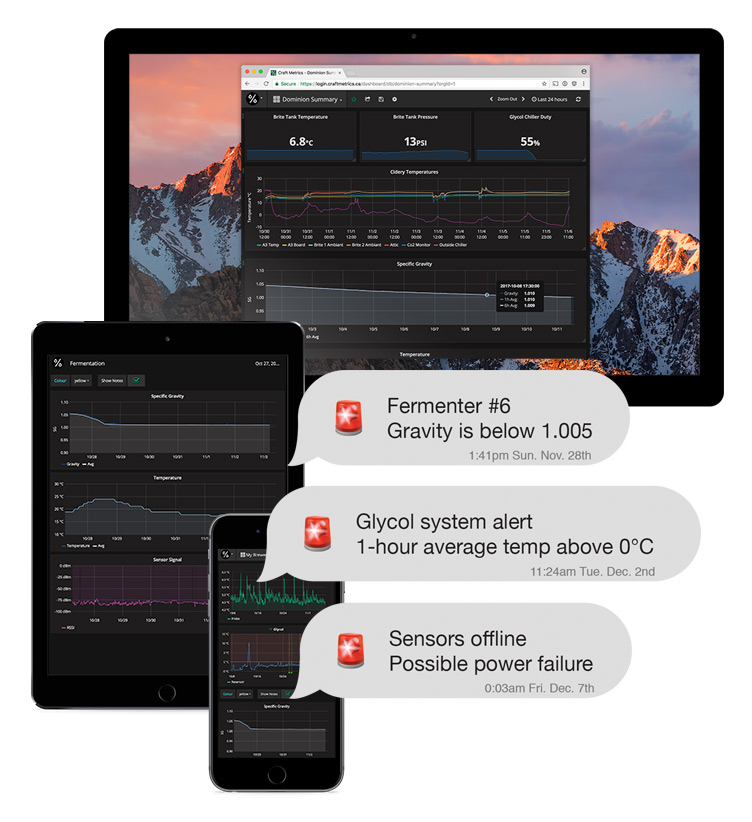 Home Brewery
Max Devices: 1
Max Users: 1
Data Retention: 1 year

Nano Brewery
Max Devices: 3
Max Users: 1
Data Retention: 1 year
Mobile Alerts
Email Support
Micro Brewery
Max Devices: 25
Max Users: 5
Data Retention: 2 year
Mobile Alerts
Custom Dashboards
Email Support
Pro Brewery
Max Devices: 100
Max Users: 10
Data Retention: 5 years
Mobile Alerts
Custom Dashboards
Priority Phone & Email Support
Data Concierge Service
Choose your sensors
Purchase sensors from our online store to connect to your subscription. If you don't see the sensor you're looking for, just ask. We can probably build it.
How do we count devices?
We count any of our sensors or receiver modules towards the device limit for each subscription plan. Tilt Hydrometers are not counted, but Tilt receiver modules are.
Have custom requirements?
If your needs aren't met by any of these plans, get in touch. We'll customize a solution for you.
What is Data Concierge?
Our professional plan includes two hours per month of data concierge services where a Craft Metrics Data Scientist is available to generate custom reports, do custom analysis of your data, and help you to gain the exact insights you're looking for.